1st Born
Tucker and Hamid are going to be grandfathers for the first time, but only if they can come together long enough to save their first-born grandchild.
Director: Ali Atshani, Sam Khoze
Writer: Sam Khoze, Tarek Zohdy, Ali Atshani, Mahdi Alimirzaee
Cast: Denise Richards, William Baldwin, Val Kilmer
Genre: Comedy
99 Homes
A recently unemployed single father struggles to get back his foreclosed home by working for the real estate broker who is the source of his frustration. Golden Globe nominated and Los Angeles Critics Association Award winning title.
Director: Ramin Bahrani
Writer: Ramin Bahrani, Bahareh Azimi, Ramin Bahrani
Cast: Michael Shannon, Douglas M. Griffin, Randy Austin
Genre: Drama
A Hologram for the King
A failed American businessman looks to recoup his losses by traveling to Saudi Arabia and selling his idea to a wealthy monarch.
Director: Tom Tykwer
Writer: Dave Eggers, Tom Tykwer
Cast: Tom Hanks, Omar Elba, Sarita Choudhury
Genre: Comedy, Drama
All Nighter
A workaholic father who attempts to visit his daughter during a layover in LA, only to discover that she's disappeared, is forced to team up with her awkward ex-boyfriend to find her over the course of one transformative night.
Director: Gavin Wiesen
Writer: Seth W. Owen
Cast: Analeigh Tipton, Emile Hirsch, J.K. Simmons
Genre: Comedy, Drama
American Pastoral
Set in postwar America, a man watches his seemingly perfect life fall apart as his daughter's new political affiliation threatens to destroy their family.
Director: Ewan Mcgregor
Writer: Philip Roth, John Romano
Cast: Ewan McGregor, Jennifer Connelly, Dakota Fanning
Genre: Crime, Drama
Ashby
When Ed Wallis starts at a new school in a new town, his classmates mistakenly assume that he's a loser.
Director: Tony McNamara
Writer: Tony McNamara
Cast: Mickey Rourke, Nat Wolff, Emma Roberts
Genre: Comedy, Drama
Borg/McEnroe
A look at the classic 1980 Wimbledon final match between tennis stars Bjorn Borg and John McEnroe. Starring Shia LaBeouf, Stellan Skarsgard and Sverrir Gudnason
Director:
Writer:
Cast:
Genre:
Cut Bank
A young man's life is unraveled after witnessing a murder that he filmed in his rural town of Cut Bank.
Director: Matt Shakman
Writer: Roberto Patino
Cast: Liam Hemsworth, Billy Bob Thornton, John Malkovich
Genre: Thriller
Dead in a Week: Or Your Money Back
After his ninth unsuccessful attempt on his own life, a young man outsources his suicide to an ageing assassin. "If you're serious about ending it, you need professional help"
Director:
Writer:
Cast:
Genre:
Electric Slide
A chronicle of the life of furniture salesman turned bank robber Eddie Dodson.
Director: Tristan Patterson
Writer: Tristan Patterson
Cast: Jim Sturgess, Patricia Arquette, Chloe Sevigny
Genre: Crime
Every Secret Thing
A detective looks to unravel a mystery surrounding missing children and the prime suspects: two young women who, seven years ago, were put away for an infant's death.
Director: Amy Berg
Writer: Nicole Holofcener / Laura Lippman
Cast: Elizabeth Banks, Diane Lane, Dakota Fanning
Genre: Crime, Thriller
Freeheld
New Jersey police lieutenant, Laurel Hester, and her registered domestic partner, Stacie Andree, both battle to secure Hester's pension benefits when she is diagnosed with terminal cancer.
Director: Peter Sollett
Writer: Ron Nyswaner
Cast: Julianne Moore, Ellen Page, Michael Shannon
Genre: Biography, Drama
Gods Pocket
When Mickey's crazy step-son Leon is killed in a construction 'accident', nobody in the working class neighborhood of God's Pocket is sorry he's gone. Mickey tries to bury the bad news with the body, but when the boy's mother demands the truth, Mickey finds himself stuck in a life-and-death struggle between a body he can't bury, a wife he can't please and a debt he can't pay.
Director: John Slattery
Writer: Peter Dexter, Alex Metcalf, John Slattery
Cast: Christina Hendricks, Philip Seymour Hoffman, Eddie Marsan
Genre: Crime, Drama
Imogene
Kristen Wiig stars as Imogene, once a promising young New York playwright whose promise has fizzled, thanks to a crisis of confidence. Heavily in denial about being dumped she uses her skill for drama to stage an elaborate fake suicide as an appeal for her ex's sympathy. But her attempt backfires when she's put into the custody of Zelda, her estranged gambling addict mother (Annette Bening), and must return home with her to the Jersey shore.
Director: Shari Springer Berman , Robert Pulcini
Writer: Michelle Morgan
Cast: Kristen Wiig, Annette Bening
Genre: Thriller
Jim Button and Luke the Engine Driver
An orphan who has grown up on a small island and an engine driver set out to find a new place to live. But before they can drive their train at their new home, they choose adventure for saving an abducted princess.
Director: Dennis Gansel
Writer: Dirk Ahner, Andrew Birkin
Cast: Henning Baum, Kao Chenmin, Andy Cheung
Genre: Adventure, Family
Khumba
Rejected by his superstitious herd, a half-striped zebra embarks on a daring quest to earn his stripes but finds the courage and self-acceptance to save all the animals of the Great Karoo.
Director: Anthony Silverston
Writer: Raffaella Delle Donne, Anthony Silverston
Cast: Jake T. Austin, Steve Buscemi, Loretta Devine, Liam Neeson
Genre: Animation
Lila And Eve
Two distraught mothers, whose children were gunned down in a drive-by, team up to avenge their deaths after local authorities fail to take action.
Director: Charles Stone III
Writer: Pat Gilfillan
Cast: Jennifer Lopez, Viola Davis
Genre: Action Crime
Lone Survivor
Marcus Luttrell and his team set out on a mission to capture or kill notorious Taliban leader Ahmad Shah, in late June 2005. Marcus and his team are left to fight for their lives in one of the most valiant efforts of modern warfare.
Director: Peter Berg
Writer: Peter Berg, Marcus Luttrell
Cast: Mark Wahlberg, Taylor Kitsch, Emile Hirsch
Genre: Thriller
Margin Call
Follows the key people at an investment bank, over a 24-hour period, during the early stages of the financial crisis.
Director: J.C. Chandor
Writer: J.C. Chandor
Cast: Zachary Quinto, Stanley Tucci, Kevin Spacey, Demi Moore
Genre: Thriller
MILF
Three best friends in their forties start a relationship with younger men while on vacation.
Director: Axelle Laffont
Writer: Axelle Laffont, Alain Layrac, Jonathan Cohen, David Lanzmann
Cast: Marie-Josée Croze, Virginie Ledoyen, Axelle Laffont
Genre: Comedy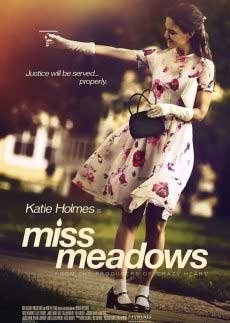 Miss Meadows
A story centered on a proper elementary school teacher who moonlights as a vigilante.
Director: Karen Leigh Hopkins
Writer: Karen Leigh Hopkins
Cast: Katie Holmes, James Badge Dale, Callan Mulvey
Genre: Drama / Thriller
Queen of the Desert
A chronicle of Gertrude Bell's life, a traveler, writer, archaeologist, explorer, cartographer, and political attaché for the British Empire at the dawn of the twentieth century.
Director: Werner Herzog
Writer: Werner Herzog
Cast: Salah Benchegra, Beth Charkham, Shannon Makhanian
Genre: Adventure, Drama
Ratchet & Clank
Ratchet and Clank tells the story of two unlikely heroes as they struggle to stop a vile alien named Chairman Drek from destroying every planet in the Solana Galaxy. When the two stumble upon a dangerous weapon capable of destroying entire planets, they must join forces with a team of colorful heroes called The Galactic Rangers in order to save the galaxy. Along the way they'll learn about heroism, friendship, and the importance of discovering one's own identity.
Director: Kevin Munroe
Writer: T.J Fixman, Kevin Munroe, Gerry Swallow
Cast: Paul Giamatti, John Goodman, Belle Thorne
Genre: Animation, Action
Serena
Set in the late 1920s love-struck newly-weds begin to build a timber empire. Serena soon proves herself to be equal to any man: overseeing loggers, hunting rattle-snakes, even saving a man's life in the wilderness. With power and influence now in their hands, the Pembertons refuse to let anyone stand in the way of their inflated love and ambitions. But the past of her husband's life catches up and the marriage begins to unravel with a dramatic reckoning.
Director: Susanne Bier
Writer: Christopher Kyle
Cast: Bradley Cooper, Jennifer Lawrence, Toby Jones
Genre: Drama
Stratton
A British Special Boat Service commando tracks down an international terrorist cell.
Director: Simon West
Writer: Duncan Falconer, Warren Davis II
Cast: Dominic Cooper, Austin Stowell, Gemma Chan
Genre: Action Thriller
Thanks For Sharing
A romantic comedy that brings together three disparate characters who are learning to face a challenging and often confusing world as they struggle together against a common demon: sex addiction.
Director: Stuart Blumberg
Writer: Stuart Blumberg, Matt Winston
Cast: Mark Ruffalo, Tim Robbins, Gwyneth Paltrow
Genre: Drama
The Angriest Man In Brooklyn
A curmudgeonly man is mistakenly told that he has 90 minutes to live by his doctor and promptly sets out to reconcile with his wife, brother and friends in the short time he believes he has left.
Director: Phil Alden Robinson
Writer: Daniel Taplitz (screenplay), Assi Dayan
Cast: Robin Williams, Mila Kunis, Peter Dinklage
Genre: Drama
The Bag Man
A criminal bides his time at a seedy motel, waiting for his boss after killing several men and making away with a mystery bag.
Director: David Grovic
Writer: David Grovic, Paul Conway
Cast: John Cusack, Rebecca Da Costa, Robert De Niro
Genre: Thriller
The Little Vampire
THE LITTLE VAMPIRE, based on the characters from the bestselling novels by Angela Sommer-Bodenburg, tells the story of Rudolph, a thirteen year old vampire, whose clan is threatened by a notorious vampire hunter. He meets Tony, a mortal of the same age, who is fascinated by old castles, graveyards and - vampires. Tony helps Rudolph in an action and humour packed battle against their adversaries, together they save Rudolph's family and become friends.
Director: Richard Claus, Karsten Kiilerich
Writer: Richard Claus, Angela Sommer-Bodenburg
Cast: Jim Carter, Rasmus Hardiker, Alice Krige
Genre: Animation, Adventure, Comedy
The Master
A Naval veteran arrives home from war unsettled and uncertain of his future - until he is tantalized by The Cause and its charismatic leader.
Director: Paul Thomas Anderson
Writer: Paul Thomas Anderson
Cast: Philip Seymour Hoffman, Joaquin Phoenix, Amy Adams
Genre: Drama
Third Person
Three interlocking love stories involving three couples in three cities: Rome, Paris, and New York.
Director: Paul Haggis
Writer: Paul Haggis (screenplay)
Cast: Liam Neeson, Mila Kunis, Adrien Brody
Genre: Drama
Tinker Tailor Soldier Spy
In the bleak days of the Cold War, espionage veteran George Smiley is forced from semi-retirement to uncover a Soviet agent within MI6.
Director: Tomas Alfredson
Writer: Bridget O'Connor, Peter Straughan
Cast: Gary Oldman, Colin Firth, Tom Hardy
Genre: Thriller
Twice Born
A mother brings her teenage son to Sarajevo, where his father died in the Bosnian conflict years ago.
Director: Sergio Castellitto
Writer: Sergio Castellitto
Cast: Penélope Cruz, Emile Hirsch, Adnan Haskovic
Genre: Drama
Very Good Girls
Two New York City girls make a pact to lose their virginity during their first summer out of high school. When they both fall for the same street artist, the friends find their connection tested for the first time.
Director: Naomi Foner
Writer: Naomi Foner
Cast: Dakota Fanning, Elizabeth Olsen, Sterling Jones
Genre: Drama
Z For Zachariah
In the wake of a disaster that wipes out most of civilization, two men and a young woman find themselves in an emotionally charged love triangle as the last known survivors.
Director: Craig Zobel
Writer: Nissar Modi / Robert C. O'Brian
Cast: Chris Pine, Chiwetel Ejiofor, Margot Robbie
Genre: Thriller, Action
Zipper
A family man who has it all until he risks losing everything due to his inability to fight off his obsessive temptation for other women.
Director: Mora Stephens
Writer: Mora Stephens, Joel Viertel
Cast: Patrick Wilson, Richard Dreyfus, Lena Headey
Genre: Thriller